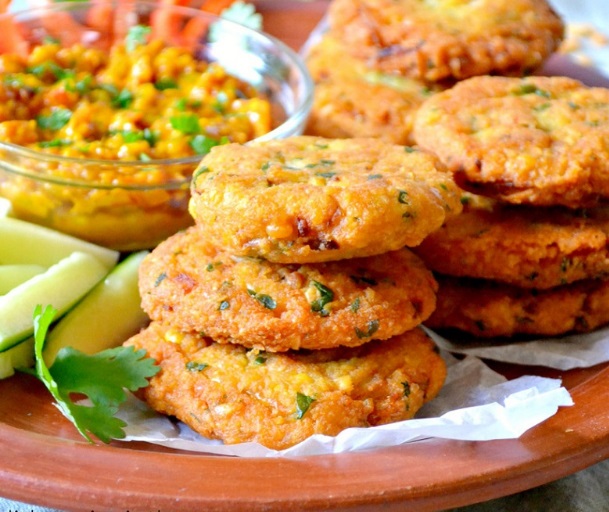 Ingredients
Dried peas: 250 grams
bow: 1 (medium size)
chopped fresh cilantro
chili pepper: 1 pc
salt: 1 teaspoon
turmeric powder: a quarter teaspoon
red chili powder: a quarter teaspoon
sunflower oil (for frying)
For the sauce:
tomatoes: 1 (medium size)
bow: 1 (small)
garlic: 2 cloves
flour: 1 tbsp. l.
sunflower oil: 1 tbsp. l.
grated ginger root: 1 teaspoon
water: 110 ml
turmeric powder: 0.5 teaspoon
cumin powder: 0.5 teaspoon
red chili powder: 0.5 teaspoon
coriander powder: 0.5 teaspoon
salt: a quarter teaspoon.
Recipe:
1. First, cover the peas with water and leave to swell overnight. Then drain the water, grind half of the peas in a meat grinder until smooth, and the other half to leave larger pieces. Then mix both masses in one container.
2. Peel the onion, chop finely. Remove the seeds from the chili and chop very finely.
3. Combine peas with onion, chili, cilantro and add spices. Mix well.
4. Heat enough oil in a skillet over medium heat. Take one tablespoon of the peas and form round circles about 6 centimeters in diameter and 0.5 centimeters thick, place in hot oil and fry on both sides until the steaks are lightly browned. Bake each steak for about 4 minutes.
5. Place the fried steaks on a paper towel to absorb the oil. Bake all steaks this way.
6. Sauce: Peel and chop the onion. Peel and chop the garlic cloves. Cut the tomato into small cubes. Heat oil in a skillet over medium heat, add onion and saute until soft.
7. Then add garlic, tomato, grated ginger root and spices. Stir and fry for about 60 seconds. Then add flour, mix well, fry for another 60 seconds. Finally, add water, stir and bring to a boil.
8. Then reduce heat and simmer the sauce for another 5 minutes, leave to cool slightly. Grind the sauce with a blender until smooth, or leave in lumps if desired.
9. Finally, serve the steaks with curry sauce and your favorite vegetables or salad.
Bon Appetit!